Please, wait, this page is loading...
THIS IS YOUR MIRACLE DAY!



CashApp: $adhonep
Venmo: @BrotherCarlosO
Zelle: PrayerRevival@gmail.com
SPIRITUAL WARFARE COVERING:




WHY FIGHT THE DEVIL ALONE WHEN YOU CAN HAVE SPIRITUAL WARRIORS ALONGSIDE YOU, FIGHTING DEMONS WITH YOU AND FOR YOU ALL YEAR ROUND?

WATCH THIS VIDEO BELOW:
Please, read below carefully before donating.

WATCH THIS VIDEO ENTIRELY SO THAT YOU WILL KNOW WHAT TO EXPECT.
ADD YOURSELF, YOUR FAMILY, YOUR ENTIRE HOLSEHOLD TO OUR POWERFUL ALL YEAR ROUND Intensive Spiritual Warfare Prayer Covering:





***IMPORTANT, READ THIS:

We minister DAILY, in the background (intercessory deliverance prayer), to all who have signed up.





SPIRITUAL WARFARE COVERING:




***1 YEAR SPIRITUAL COVERING:

TO SIGN UP SIMPLY DONATE

$120 OR MORE

BELOW AND YOU AND YOUR FAMILY WILL BE INSTANTLY AND AUTOMATICALLY INCLUDED IN OUR DAILY SPIRITUAL WARFARE COVERING FOR A YEAR BEGINNING NOW, NO FURTHER ACTION NEEDED AFTER DONATION.​





***OR

DONATE

$25 OR MORE

FOR

MONTHLY SPIRITUAL COVERING (MONTH-TO-MONTH)

.





We cast out demons, break curses and witchcraft daily, several times a day, on behalf of those who have signed up and also on behalf of their entire household, including all humans and pets, in the background, long distance, several times a day ALL YEAR ROUND.





Please, Donate

below via

PayPal




Also, if you prefer you can donate below via

CashApp, Zelle

or

Venmo

and even via Post Office:





Carlos Oliveira




P O Box 7966




Fresno, CA 93747 USA





Email:





PLS, READ THE WHOLE ABOVE AGREEMENT BEFORE DONATING BELOW:
CashApp: $adhonep
Venmo: @BrotherCarlosO
Zelle:
YOUR HOME IS LONG OVERDUE FOR CURSE AND WITCHCRAFT BREAKING, TAKE ACTION NOW BEFORE IT'S TOO LATE.
IF ANY OF THE FOLLOWING HAS BEEN DONE IN YOUR HOME / PROPERTY THEN YOUR HOME IS CURSED AND NEEDS TO BE SPIRITUALLY CLEANSED AND DEMONS HAVE TO BE CAST OUT OF IT, THAT'S WHEN I COME IN. I MINISTER PROPERTY CURSE BREAKING OVER THE TELEPHONE OR IN-PERSON IF THE PROPERTY IS LOCATED IN THE CENTRAL VALLEY IN CALIFORNIA. I HAVE A VERY UNIQUE BIBLICAL WAY OF GETTING RID OF CURSES, WITCHCRAFT AND DEMONS.
​
Some of the Practices that bring demons and curses upon:
Ouija Board; Séance; Tarot cards; Dream catcher; Human ashes; Abortion; Sex toys; Pornography; Bestiality; "R" rating movies; Crime and violent movies; Horror movies; Sexual movies; Ghost hunting shows; Adultery; Murder; Suicide; Homicide; Child abuse and molestation; Bestiality; Drug use and abuse; Horoscope; Yoga; Meditation; Sage smudge; Incense burning; Crystals; Lucky Horseshoe; Lucky Rabbit's foot; Dungeons & Dragons; Light as a feather; Bloody Mary; Idol worship; Satanic rituals; Pentagram; Hypnotism; Islamic prayer rugs; Rap music, Country music; Heavy-Metal music; Secular music in general; Occult practices; New Age spirituality; More...
​
Leviticus 19:31 "You must not turn to mediums or spiritists; do not seek them out, or you will be defiled by them. I am the LORD your God."
Brother Carlos offers:
"Property Curse Breaking The Bible Way"
In-Person or Over The Telephone.
APARTMENTS (over the telephone only), SINGLE FAMILY HOMES WITH A YARD, FARMS, RANCHES, COMMERCIAL PROPERTIES, VACANT LANDS.
Contact Brother Carlos via email at
ANOINTED SEA SALT PRAYED OVER, IN THE NAME OF JESUS, BY BROTHER CARLOS, FOR DRIVING OUT DEMONS, BREAK CURSES AND WITCHCRAFT FROM HUMANS, PETS AND PROPERTIES.
​
USE THIS ANOINTED SEA SALT, PRAYED OVER BY EXORCIST BROTHER CARLOS OLIVEIRA, TO BREAK WITCHCRAFT, EVIL-EYE, HEXES, VEXES, WORD-CURSING, VOODOO, BLACK MAGIC, ENVY, ETC., FROM HUMANS, ANIMALS AND PROPERTIES. AVAILABLE FOR PICK UP IN FRESNO AND CLOVIS, CALIFORNIA.
​
Since Sea Salt was used by Elisha (2 Kings 2:19-22) to break a CURSE upon their
city water (causing death, etc...) causing the land to be unproductive,
we can do the same to break CURSES over properties, homes, cars, pets, humans, etc.
WATER AND LAND CURSE BREAKING (2 Kings 2:19-22)The people of the city said to Elisha,
"Look, our lord, this town is well situated, as you can see, but the water is bad
and the land is unproductive." "Bring me a new bowl," he said, "and put salt in it."
So they brought it to him. Then he went out to the spring and threw the salt into
it, saying, "This is what the Lord says: 'I have healed this water. Never again will
it cause death or make the land unproductive.'" And the water has remained pure to
this day, according to the word Elisha had spoken.
​
MEANING OF SALT IN THE BIBLE
According to Exodus 34:28, 2 Chronicles 13:5, 2 Kings 2:21
- It makes that which is of no taste or bad taste, palatable;
- he people of God were commanded to season all their sacrifices with salt;
- By reason of the salt covenant, every unpleasant thing shall be made sweet;
- The covenant of people binds people together and also binds the people to
- God who is their creator;- The covenant of salt speaks of dominion and kingship.
It is a sign or symbol of goodwill and favors;
- Salt is symbolic in the removal of corruption;- Salt is meant to symbolize a mighty
spiritual weapon and a cleansing agent;
- Salt also talks about loyalty;- Salt is an agent of addressing all the toxic things in society;
- Salt also means a healing agent in the Bible.
DIRECTIONS AND INSTRUCTIONS ON HOW TO USE IT:
​
BROTHER CARLOS' ANOINTED SEA SALT FOR PROPERTY CURSE BREAKING:
Mix 3 tablespoons of Brother Carlos' Anointed Sea Salt into a gallon of water then use a spray bottle to spray the water
around the house (indoors). Also spray the salty water around your yard next to the
fence / walls. PLS, REPEAT THE PROCESS ONCE A WEEK FOR 4 WEEKS, THEN ONCE EVERY 6 MONTHS THEREAFTER.
​
BROTHER CARLOS' ANOINTED SEA SALT FOR HUMAN CONSUMPTION:
- Cook using the salt as you please;
- Eat the salt with salad as you please;
- Mix a teaspoon of salt into a 1 liter (33oz) of drinking water (or the quantity you like)
drink it little by little throughout the day, every day for a week or so, repeat the process
as you please. You can also spray a little bit of salty water on your head, arms, legs, etc...
BROTHER CARLOS' ANOINTED SEA SALT FOR PETS:
Just spray a little bit of salty water on pets (the same water used for property), once a week
for a month, then once every 3 to 6 months thereafter.
WARNING: Headaches and other symptoms such as diarrhea, vomiting and others may occur temporary as demons leave your body and curses and witchcraft are being broken.
Please, Donate $40 (Priority Mail Shipping Included) below then email us your MAILING ADDRESS at and we will ship it to you (HOW-TO-USE INSTRUCTIONS INCLUDED). U.S. ONLY. If you live overseas then we will email you the DO-IT-YOURSELF VIDEO.
CashApp:
$adhonep
Venmo:
@BrotherCarlosO
Zelle:
Powerful Frankincense/Myrrh Anointed Oil made with pure Olive Oil, Prayed Over By Exorcist Brother Carlos Oliveira. Ideal for getting rid of Evil Spirits, Witchcraft, Evil-Eye, For House Cleansing and Blessing, and more @ https://www.demongone.com - 1 fl.oz. THE EXORCIST Anointing Oil is great for expelling evil spirits, breaking curses and witchcraft from people, pets, home, objects, furniture, automobiles, clothing, toys, all items in general, also great for house/property blessing. What do you have to lose? Demons? Curses? Witchcraft? Order yours now @ https://www.demongone.com
Need Inner-Healing? Deliverance? Words of Encouragement?

Then, please, contact Karla S. today!
Pls, donate $50 below then email Karla to schedule a time for your ministration over the telephone. GBY!
Worldwide Spiritual Assistance!
CashApp: $KarlaSullens
Email:
NEED DELIVERANCE? INNER-HEALING? Contact Dr. B & Bonnie for help! Pls, donate $50 below then email them @
Dr. Bondoc & Bonnie are Ordained Chaplains through the Great Commission United Chaplaincy & Discipleship Academy in Shelby, Michigan, and Personal/Professional Spiritual Life Coaches focused on deliverance.
This is a Holy Spirit-led ministry, and all glory and honor go to God the Father, Jesus Christ, and the Holy Spirit. It is a non-501c3 organization and donations are not tax deductible.
TESTIMONIES
January, 2021
Glory to God! I ran across Dr. B and Bonnie on the Internet. God used Dr. B and Bonnie to destroy the hindrances in my life and ministry. These are truly women of God. I thank God for their obedience to the Holy Spirit and am grateful to God for directing me to them. I highly recommend them. Hallelujah! There is Power in the Blood of Jesus. Praying with Dr. B and Bonnie, agreeing in faith in the name of our Lord Jesus Christ produced instant results. Christ Be Magnified! In Jesus Name, Amen.
--J.G.
​
January, 2021
Hello my name is T.W., and this is my testimony. It all started in my family, I was molested as a child, and from there I grew older and started having sex and doing drugs, stealing and breaking into houses/apartments, committing burglary, drinking alcohol and associating myself with gangs. The more I did these things, the more corrupt I became, and things snowballed with things getting worse. I picked up more and more demons while I was doing these things in my past, and eventually the perversions from the molestations and fornications I Involved myself in led me down a path into bisexuality where I found myself having sex and anal sex with transgender women and men and living a lifestyle contrary to God's ordained plan for me. After my senior year of high school at the age of 17, I was diagnosed with schizophrenia and was being tormented by many different spirits, including voodoo attacks from people I was sexually involved with in the past. All of these things led me to the realization I needed a savior so I gave my life to the Lord Jesus Christ and turned from all these evil ways and different paths, I ignorantly had chosen to take. And eventually, I got in contact with Dr. B and Bonnie where they have prayed for me and completely assassinated my Goliath and strongmen and covered me with prayers of protection Etc., that has worked wonders for my life even at this current moment and the Lord Jesus Christ has also done wonderful things for me ever since I gave my life to him, he has protected me, provided food and shelter, shoes, clothes, finances, and everything else I need. He has also anointed me, given me mantles, and even opened heaven over my life along with sending Dr. B and Bonnie into my life to help encourage and cover me in prayer and be a blessing to me. So, to the Lord Jesus Christ, I will forever give the Praise and Glory in Jesus Christ Holy name, Hallelujah.
--T.W.
​
ANOTHER ONE:
Dr. B and Bonnie prayed against a spiritual attack over my throat and head. I had a breakthrough and feel really great!
I give God all of the glory. Thank you for doing the heavy lifting. It is broken. Wow! It was a vicious attack. Halleluiah! Amen! Our God lives!
DD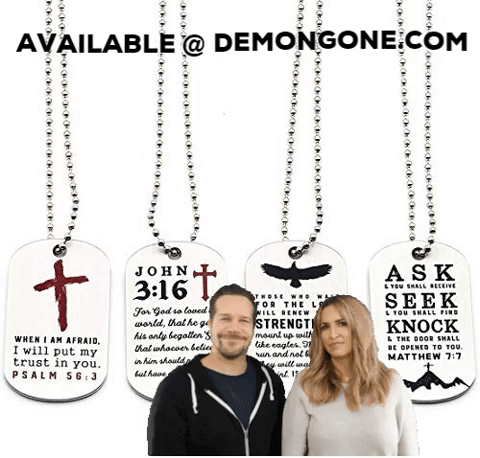 Jesus Christ is the LORD!
Welcome to DailyLiveChurch.Com
Deliverance Ministries and Churches: Fresno, Los Angeles, San Diego, San Francisco, Oakland, Sacramento, San Jose, Seattle, Portland, Phoenix, Dallas, Houston, Austin TX, Colorado Springs, Denver, Miami, Fl, Atlanta, Ga, New York, New Jersey, Las Vegas, Boston, San Antonio, Texas, California, Georgia, Florida, Oregon, Washington, DC, North Carolina, South Carolina, Baltimore, Kansas City, Saint Louis, MO, San Bernardino, Orange County, Fort Lauderdale, Toronto, Vancouver, Quebec, Canada, London, UK, Ministry, Church, Minister, Exorcist, Exorcists, Exorcism, Near Me. Deliverance from demons, curses, voodoo, witchcraft.
This is NOT a Non-Profit Organization. Donations are NOT tax deductible!
Brother Carlos on Bio. Channel
A FEEDBACK FROM OUR LAST (((LIVE))) INTENSIVE DELIVERANCE PRAYER:
":) thank you, Brother Carlos. I still feel kind of strange. That was one weird experience I had in a long time. I came in and out of a trance state several times. I anointed myself and the puppy beforehand, just in case prevent transference to and fro. When you started I was very nauseous and thought I should have gotten a bag, but I didn't want to miss what you were saying. But, thankfully it didn't go further than nausea. A lot of yawns and bleeps, and occasional tears. I was so weak very strange, in a trance but conscious and aware. You asked demons questions, and sometimes I heard myself giving yes and no answers, involuntarily but my voice was the same. When I thought you were ending, you started another area, and I was uncomfortable transient all over again. Several times I also found myself not breathing for an extended period, and I became aware and took a breath. It's weird and scary. You want to be free, but going through it is not something to look forward to. I know it's not complete, but I have yet to explore any changes that are in place. Thank you. This was very selfless of you. Thank you. God bless you. :)"
Brother Carlos' Christian eBooks: Spiritual Warfare Prayers, Premarital & Singleness Curse Breaking, Manual For Miracles, Healing & Deliverance; Financial Curse Breaking, House Cleansing & Blessing Prayer Manual, 4 Free Spiritual Books.
Do you have questions regarding CURSE BREAKING? Then, please




CLICK HERE
EVENTS,
PRODUCTS
AND SERVICES
Your Deliverance Starts Here, Watch This VIDEO Below:
This is NOT a Non-Profit Organization. Donations are NOT tax deductible!
DELIVERANCE FROM DEMONS PRAYER
GOT FINANCIAL CURSES? Take the TEST, watch the VIDEO below to find out!
This is NOT a Non-Profit Organization. Donations are NOT tax deductible!
(((((((((((((((((((( CAMPAIGN PRAISE REPORT ))))))))))))))))))))

1st THE BLOOD OF THE LAMB PRAYER CAMPAIGN Praise Report!!!!!!!!!!
"Hi Brother Carlos THE BLOOD OF THE LAMB prayer campaign is a miracle. When I got up this morning my stomach was flat, and I actually felt Hungry for the first time in 20years, my stomach used to look like a football every time I ate something. Doctors kept on prescribing tablets after tablets test after tests, but could not cure. I am faithful and praise the Lord God Almighty He did it, I thank you for guidance and all your help to lead us all followers to God. Thank You, God Bless."

ANOTHER PRAISE REPORT !!!!!!!!
"Hi Brother Carlos I have been doing the Blood of the Lamb Campaign, Day 1 and Day 2 I felt nauseous, and I was sweating heavily all through the night. I had to sleep with a towel around my neck. Day 3 and Day 4 during the night I saw demons
leaving my body. Right now I feel my body is stronger, I can walk a bit longer with no pain in my legs. I believe that God is healing my body, He is getting rid of everything that is hindering my health. Praise God! God Bless you for all the work you are doing to set people free."
BECOME A MINISTRY PARTNER TODAY!!!
Ministry partners are those who donate any amount regularly (monthly, bi-weekly or weekly).
Brother Carlos prays for Ministry Partners LIVE on the internet, from Mondays through Fridays, twice a day, morning (8 am PST) and evening (6 pm PST). They also receive intercessory prayers (off cameras) throughout the day, everyday.
​
Become a Ministry Partner today, donate at the PayPal button below.
This is NOT a Non-Profit Organization. Donations are NOT tax deductible!
MAILING ADDRESS:
Carlos Oliveira
P O Box 7966
Fresno, Ca 93747
Visit our other websites @