Please, wait, this page is loading...
IMPORTANT,
Brother Carlos is available for IN-PERSON Deliverance and Curse Breaking in Fresno, Clovis and Madera, California.
Donations apply!
Email us at
if interested.
BECAUSE THERE'S EVIL ALL AROUND US...
WHY FIGHT THE DEVIL ALONE WHEN YOU CAN HAVE SPIRITUAL WARRIORS ALONGSIDE YOU, FIGHTING DEMONS WITH YOU AND FOR YOU ALL YEAR ROUND?

WATCH THIS VIDEO BELOW:
Please, read below carefully before donating.

WATCH THIS VIDEO ENTIRELY SO THAT YOU WILL KNOW WHAT TO EXPECT.
ADD YOURSELF, YOUR FAMILY, YOUR ENTIRE HOLSEHOLD TO OUR POWERFUL ALL YEAR ROUND Intensive Spiritual Warfare Prayer Covering:
​
***IMPORTANT, READ THIS:

We minister DAILY, in the background (intercessory deliverance prayer), to all who have signed up.
​
***

TO SIGN UP SIMPLY DONATE

$120

BELOW AND YOU AND YOUR FAMILY WILL BE INSTANTLY AND AUTOMATICALLY INCLUDED IN OUR DAILY SPIRITUAL WARFARE COVERING BEGINNING NOW, NO FURTHER ACTION NEEDED AFTER DONATION.​
​
***OR

DONATE

$25

MONTLY .



We cast out demons, break curses and witchcraft daily, several times a day, on behalf of those who have signed up and also on behalf of their entire household, including all humans and pets, in the background

, long distance, several times a day ALL YEAR ROUND.



Please, Donate

below via

PayPal
Also, if you prefer you can donate below via

CashApp, Zelle

or

Venmo

and even via Post Office:
​
Carlos Oliveira
P O Box 7966
Fresno, CA 93747 USA
​
Email:
​
PLS, READ THE WHOLE ABOVE AGREEMENT BEFORE DONATING BELOW:
CashApp: $adhonep
Venmo: @BrotherCarlosO
Zelle:
GOT DEMON? GOT CURSE? GOT WITCHCRAFT? GOT QUESTION? GOT CONFUSION?
Usually, demons begin leaving people at the very moment they start telling me their problems, that's how Authority and Anointing work.
Pls, DONATE
$50
below then email Brother Carlos your Telephone Number at
, he will call you within an hour.

This is an up to 30 minute phone call

.
CashApp:
$adhonep
Venmo:
@BrotherCarlosO
Email:
YOUR HOME IS LONG OVERDUE FOR CURSE AND WITCHCRAFT BREAKING, TAKE ACTION NOW BEFORE IT'S TOO LATE.
IF ANY OF THE FOLLOWING HAS BEEN DONE IN YOUR HOME / PROPERTY THEN YOUR HOME IS CURSED AND NEEDS TO BE SPIRITUALLY CLEANSED AND DEMONS HAVE TO BE CAST OUT OF IT, THAT'S WHEN I COME IN. I MINISTER PROPERTY CURSE BREAKING OVER THE TELEPHONE OR IN-PERSON IF THE PROPERTY IS LOCATED IN THE CENTRAL VALLEY IN CALIFORNIA. I HAVE A VERY UNIQUE BIBLICAL WAY OF GETTING RID OF CURSES, WITCHCRAFT AND DEMONS.
​
Some of the Practices that bring demons and curses upon:
Ouija Board; Séance; Tarot cards; Dream catcher; Human ashes; Abortion; Sex toys; Pornography; Bestiality; "R" rating movies; Crime and violent movies; Horror movies; Sexual movies; Ghost hunting shows; Adultery; Murder; Suicide; Homicide; Child abuse and molestation; Drug use and abuse; Horoscope; Yoga; Meditation; Sage smudge; Incense burning; Crystals; Horse shoe; Rabbit's foot; Dungeons & Dragons; Light as a feather; Bloody Mary; Idol worship; Satanic rituals; Pentagram; Hypnotism; Islamic prayer rugs; Rap music, Country music; Heavy-Metal music; Secular music in general; Occult practices; New Age spirituality; More...
​
Leviticus 19:31 "You must not turn to mediums or spiritists; do not seek them out, or you will be defiled by them. I am the LORD your God."
Brother Carlos offers:
"Property Curse Breaking The Bible Way"
In-Person or Over The Telephone.
APARTMENTS (over the telephone only), SINGLE FAMILY HOMES WITH A YARD, FARMS, RANCHES, COMMERCIAL PROPERTIES, VACANT LANDS.
Contact Brother Carlos via email at
FINANCIAL PROPHETIC WORD FOR YOU, TAKE THIS STEP OF FAITH IN THAT DIRECTION,

Donate Below.

Financial Miracle Prayer That Works Wonders, by Brother Carlos
CashApp: $adhonep
Venmo: @BrotherCarlosO
Zelle:
Powerful Frankincense/Myrrh Anointed Oil made with pure Olive Oil, Prayed Over By Exorcist Brother Carlos Oliveira. Ideal for getting rid of Evil Spirits, Witchcraft, Evil-Eye, For House Cleansing and Blessing, and more @ https://www.demongone.com - 1 fl.oz. THE EXORCIST Anointing Oil is great for expelling evil spirits, breaking curses and witchcraft from people, pets, home, objects, furniture, automobiles, clothing, toys, all items in general, also great for house/property blessing. What do you have to lose? Demons? Curses? Witchcraft? Order yours now @ https://www.demongone.com
Need Inner-Healing? Deliverance? Words of Encouragement?

Then, please, contact Karla S. today!
Pls, donate $50 below then email Karla to schedule a time for your ministration over the telephone. GBY!
U.S. & Canada Only!
CashApp: $KarlaSullens
Email:
NEED DELIVERANCE? INNER-HEALING? Contact Dr. B & Bonnie for help! Pls, donate $50 below then email them @
Dr. Bondoc & Bonnie are Ordained Chaplains through the Great Commission United Chaplaincy & Discipleship Academy in Shelby, Michigan, and Personal/Professional Spiritual Life Coaches focused on deliverance.
This is a Holy Spirit-led ministry, and all glory and honor go to God the Father, Jesus Christ, and the Holy Spirit. It is a non-501c3 organization and donations are not tax deductible.
TESTIMONIES
January, 2021
Glory to God! I ran across Dr. B and Bonnie on the Internet. God used Dr. B and Bonnie to destroy the hindrances in my life and ministry. These are truly women of God. I thank God for their obedience to the Holy Spirit and am grateful to God for directing me to them. I highly recommend them. Hallelujah! There is Power in the Blood of Jesus. Praying with Dr. B and Bonnie, agreeing in faith in the name of our Lord Jesus Christ produced instant results. Christ Be Magnified! In Jesus Name, Amen.
--J.G.
​
January, 2021
Hello my name is T.W., and this is my testimony. It all started in my family, I was molested as a child, and from there I grew older and started having sex and doing drugs, stealing and breaking into houses/apartments, committing burglary, drinking alcohol and associating myself with gangs. The more I did these things, the more corrupt I became, and things snowballed with things getting worse. I picked up more and more demons while I was doing these things in my past, and eventually the perversions from the molestations and fornications I Involved myself in led me down a path into bisexuality where I found myself having sex and anal sex with transgender women and men and living a lifestyle contrary to God's ordained plan for me. After my senior year of high school at the age of 17, I was diagnosed with schizophrenia and was being tormented by many different spirits, including voodoo attacks from people I was sexually involved with in the past. All of these things led me to the realization I needed a savior so I gave my life to the Lord Jesus Christ and turned from all these evil ways and different paths, I ignorantly had chosen to take. And eventually, I got in contact with Dr. B and Bonnie where they have prayed for me and completely assassinated my Goliath and strongmen and covered me with prayers of protection Etc., that has worked wonders for my life even at this current moment and the Lord Jesus Christ has also done wonderful things for me ever since I gave my life to him, he has protected me, provided food and shelter, shoes, clothes, finances, and everything else I need. He has also anointed me, given me mantles, and even opened heaven over my life along with sending Dr. B and Bonnie into my life to help encourage and cover me in prayer and be a blessing to me. So, to the Lord Jesus Christ, I will forever give the Praise and Glory in Jesus Christ Holy name, Hallelujah.
--T.W.
​
ANOTHER ONE:
Dr. B and Bonnie prayed against a spiritual attack over my throat and head. I had a breakthrough and feel really great!
I give God all of the glory. Thank you for doing the heavy lifting. It is broken. Wow! It was a vicious attack. Halleluiah! Amen! Our God lives!
DD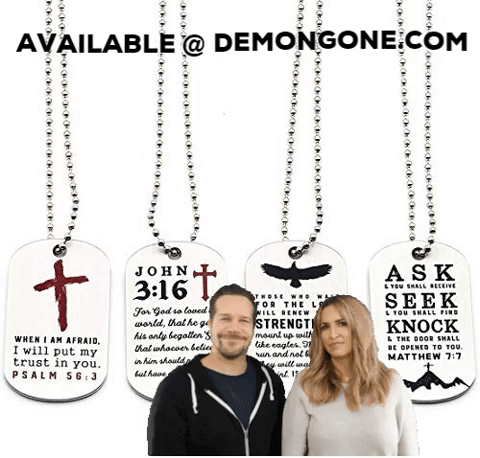 KICK DEMONS OUT OF YOUR PROPERTY BEFORE THEY KICK YOU OUT OF YOUR PROPERTY.
Please, Donate $25 below then email us requesting the video at . As a bonus we will email you 3 other videos featured below. Hurry up, this offer will not lest forever.
CashApp:
$adhonep
Venmo:
@BrotherCarlosO
Zelle:
FOR PROPERTY CURSE BREAKING AND WITCHCRAFT REMOVAL
Parte 2
​
Em Nome do Senhor Jesus Cristo, e pela autoridade da Palavra de Deus, e pelo sangue derramado de Jesus Cristo, no que se refere a mim e minha família, eu eu amarro, renuncio e expulso todos os espíritos malignos de orgulho, julgamento, rebeldia, desafio, inveja, impaciência, ressentimento, vaidade, cobiça, egoísmo, idolatria, soberba, deboche, desobediência, arrogância, hipocrisia, negatividade, descrença, medo, medo do homem, medo da morte, morte subita, morte precoce, acidentes de transito, culpa, vergonha, confusão, dúvida, auto-ódio, baixa auto-estima, rejeição, medo de rejeição, perseguição, preconceito, possessividade, raiva, ódio, medo, timidez, passividade, controle, idolatria ao dinheiro, idolatria a jogadores de futebol, idolatria a times de futebol, descrença, inveja e divisão, desunião, desconfiança, engano, desonestidade, amor ao dinheiro, destruição, vingança, hiperatividade, competitividade, acusação, tormento, procrastinação, preguiça, teimosia, brigas, críticas, manipulação, materialismo, traição, fofoca, ganância, pobreza, vingança, adultério, divórcio, separação, hipocondria; doenças no cérebro, olhos, ouvidos, nariz, nervos, músculos, coração, pulmão, estômago, intestino, fígado, ossos, células, sangue, química corporal, distúrbios hormonais ou disfunções, todas as doenças, câncer, AIDS, perca de memoria, esclerose múltipla, fadiga, anorexia, bulimia, depressão, opressão, suicídio, esquizofrenia, preocupação, ansiedade, insônia, desordem de atenção e aprendizado, nervosismo, apreensão, solidão, isolamento, ostracismo, espíritos negativos, e todos os espíritos de vicios da gula, perfeccionismo, alcoolismo, trabalhar em demasia, yoga, artes marciais, adoração a sensei, , nicotina, gastos exagerados, consumismo, frenesi do abuso de drogas, auto-abuso, exercício físico em demasia, vícios sexuais, perversões sexuais, sedução, pornografia, masturbação, luxúria, fornicação, incesto, lesbianismo, homofobia, pedofilia, homossexualidade, bissexualidade, inadequações sexuais, frigidez, impotência, medo do sexo, o ódio de homens, o ódio de mulheres, impureza sexual, imoralidade, aborto, promiscuidade, bruxaria, espíritos familiares, assassinato, jogos, surdos, mudos, cegos, espíritos mudos e de sono, espíritos da Nova Era, espíritos de cultos, espíritos de sedução e atração, e alguns espíritos oculto das trevas e da morte em todos nós. Eu libero-os a ir para onde Jesus Cristo enviá-los.

Peço a Ti, Senhor Jesus Cristo, que quebres e destruas qualquer agressão, tentativas de penetração do inimigo, maldições resultando na destruição da mente, perversão de comportamento, blasfêmias, encantamentos, feitiçarias, a comunicação com os espíritos das trevas, a condenação, o controle, maldições que afetam a família, maldições associadas com expressões, maldições de vias demoníacas e portas que se abriram, maldições de linhagem hereditária descendentes do pai e da mãe, maldições desde o ventre, xingamento, todos os tipos de enganos, ilusões, a destruição de ataques demoníacos, a condenação demoníaca, convênios malignos de todos os tipos, a destruição das finanças, a destruição do casamento, a destruição da família, da destruição do corpo, as distrações, embotamento mental, disfuncionalidade, efeitos adversos, efeitos colaterais, e picadas, encantamentos, inimigo de toda palavra ociosa falada contrário do plano original e propósitos de Deus, deslealdade, veneno, condenação, condenação demoníaca, condenação maligna, contratos malignos, dispositivos malignos, forças e poderes malignos, impedimentos, imaginações, as más influências transmitida socialmente, emocionalmente, psicologicamente, espiritualmente, herdado, ou por qualquer outro canal, desconhecido para mim, consciente ou inconsciente de alianças malignas, jogo sujo, manifestações, o mal ou errado, percepções e pensamentos negativos sobre nós, nossas famílias, trabalho e ministérios que estamos a realizar, o principado do mal, espíritos de heranças e maldições, maus espíritos que se seguem, as fortalezas do mal, desejos, falsa unção, transferência de espíritos, memórias, falsas profecias, perversão, maldição falada, perversão financeira, futilidade da mente, jogos entre espíritos satânicos e demoníacos, palavras malignas faladas, ilusões, influências ou picadas, interação com as trevas, mentiras, manipulação, o controle da mente, sentimentos negativos, efeitos neutralizados, maus hábitos, anulando os afeitos de palavras erradas e dos inimigos, laços do ocultismo, opressão , dores, discurso perverso, pensamentos maus, planos malignos, perversão, pobreza, competências e os governantes das trevas, a maldade espiritual em lugares celestiais, tendências e cativeiros que sejam contrários, opõe-se ou que expressa, a vontade de Deus para as nossas vidas, perversão religiosa, alianças satânica e/ou demoníacas, os regimes dos inimigos ou pessoas perversas, auto-condenação, perversão sexual, a tristeza do coração, a perversão espiritual, enganos sutis do mundo e do inimigo, os sistemas de pessoas, ou o inimigo, o terrorismo, de divergência mental, associações inconscientes, ou convênios com as trevas, sofrimento indevido, pressões indevidas, os laços ímpios da alma, laços ímpios, obrigações injustas, acordos injustos e ímpios, pensamentos vão, astutas ciladas do diabo , orações de feitiçaria, bruxaria, feitiços, magias demoníacas, malefícios, feitiços satânicos, obras do diabo, pensamentos religiosos tradicionais errados e mundano, jogos de mente e padrões de pensamento.
*Pelo poder do sangue de Jesus Cristo, eu renuncio agora, declaro quebrada e removida a maldição de bastardo (concepção ilegítima) na minha vida e na vida de todos meus descendentes, em nome de Jesus Cristo de Nazaré.

Senhor Jesus Cristo, eu peço que a plenitude do Seu Espírito Santo venha inundar os lugares vagos deixados pelos espíritos malignos das trevas em nossas mentes, corpos e almas. Por favor, encha-nos com o Seu perfeito amor, alegria, paz, verdade, poder, caridade, humildade, perdão, fidelidade, bondade, integridade, bem estar, saúde, confiança, autocontrole, uma boa imagem pessoal, disciplina, obediência, uma mente sã, prosperidade, ordem, renúncia, aceitação de nós mesmos e de outros. Livrai-nos de todo medo, culpa, vergonha e todos os vícios, e encha-nos a ponto de transbordar com Sua luz e vida. Em Nome de Jesus Cristo. Obrigado Senhor, por despertar nossos espíritos sonolentos, e nos trazer para a luz. Que o Senhor nos transforme pela renovação de nossas mentes diariamente em Cristo Jesus. Obrigado Senhor, por derramar o Seu Espírito sobre nós, e revelar a Sua Palavra para nós. Obrigado Senhor por dar ordem aos Seus anjos para nos guardar em todos os nossos caminhos (Salmo 91).

Obrigado Senhor por acreditarmos em Ti, e de nosso ser interior correrão rios de água viva. Em Nome de Jesus Cristo de Nazaré eu oro com ações de graças. Amém.
ORAÇÃO PARA IMPEDIR LADRÕES DE TE ROUBAR E MATAR.

Em nome de Jesus Cristo, segundo Lucas 10:19 que diz "eis que vos dou autoridade para pisardes serpentes e escorpiões e todo o poder do inimigo e nada lhes fará mal algum.", eu agora exerço autoridade sobre todos os espíritos demoníacos por trás da violência, roubo, gangues, viciados em drogas, criminosos, eu vos amarro demônios e proibo vocês de chegar perto de mim , vocês não podem me tocar nem usar alguém para me roubar ou me prejudicar de forma alguma, fiquem longe de mim e da minha família, no poderoso nome de Jesus Cristo que eu oro. Amém!

QUEM CONCORDA FAVOR "COMPARTILHAR" ESTA PAGINA NO FACEBOOK. GRATO!