Please, wait, this page is loading...
LIVE PRIVATE ZOOM GROUP DELIVERANCE AND CURSE BREAKING:
Upcoming

VIDEO GROUP DELIVERANCE ZOOM MEETING

:
Sunday, July 25 at 6 pm PT (9 pm ET / 8 pm Central)
Pls, donate
$25
below to join.
Pls, request your MEETING CREDENTIALS via Email @
after donating in order for you to join our Group Deliverance Video Meeting.
CashApp:
$adhonep
Venmo:
@BrotherCarlosO
LIVE GROUP
FINANCIAL CURSE BREAKING
ON ZOOM
Tuesday, July 27th at 6 pm Pacific (9 pm EST)
Donate
$25
below to join us then email us at
requesting your CREDENTIALS to join.
CashApp: $adhonep
Venmo: @BrotherCarlosO
DAILY PRAYERS FOR OUR MINISTRY PARTNERS
Become one now, please, donate below:
CashApp:
$adhonep
Venmo:
@BrotherCarlosO
FOR PROPERTY CURSE BREAKING IN-PERSON OR OVER THE TELEPHONE, PLEASE, CLICK HERE
Some of the Practices that bring demons and curses upon:
Ouija Board; Séance; Tarot cards; Dream catcher; Human ashes; Abortion; Sex toys; Pornography; Bestiality; "R" rating movies; Crime and violent movies; Horror movies; Sexual movies; Ghost hunting shows; Adultery; Murder; Suicide; Homicide; Child abuse and molestation; Bestiality; Drug use and abuse; Horoscope; Yoga; Meditation; Sage smudge; Incense burning; Crystals; Lucky Horseshoe; Lucky Rabbit's foot; Dungeons & Dragons; Light as a feather; Bloody Mary; Idol worship; Satanic rituals; Pentagram; Hypnotism; Islamic prayer rugs; Rap music, Country music; Heavy-Metal music; Secular music in general; Occult practices; New Age spirituality; More...
SPIRITUAL CONSULTATION AND DELIVERANCE MINISTRATION OVER THE TELEPHONE, MINISTERED BY BROTHER CARLOS (

up to 1 Hour Phone Ministration

).
Pls, Donate

$100

below then email Brother Carlos your telephone number at the email below, he will call you within a couple of hours, usually within the same day if the request is made between 10 am and 5 pm (

Pacific Time

), otherwise it will be answered the next day.


EMAIL:
CashApp:
$adhonep
Venmo:
@BrotherCarlosO
Ministry Fundraising: Pls, Donate $28 (including Priority Mail) U.S.
CashApp: $adhonep
Venmo: @BrotherCarlosO
​
Email us your CORRECT MAILING ADDRESS (Incl Apt #) at AFTER DONATION HAS BEEN MADE.
​
Powerful Frankincense/Myrrh Anointed Oil made with pure Olive Oil, Prayed Over By Exorcist Brother Carlos Oliveira. Ideal for getting rid of Evil Spirits, Witchcraft, Evil-Eye, For House Cleansing and Blessing, and more @ https://www.demongone.com - 1 fl.oz. THE EXORCIST Anointing Oil is great for expelling evil spirits, breaking curses and witchcraft from people, pets, home, objects, furniture, automobiles, clothing, toys, all items in general, also great for house/property blessing. What do you have to lose? Demons? Curses? Witchcraft? Order yours now @ https://www.demongone.com
Need Inner-Healing? Deliverance? Words of Encouragement?

Then, please, contact Karla S. today!
Pls, donate $50 below then email Karla to schedule a time for your ministration over the telephone. GBY!
Worldwide Spiritual Assistance!
CashApp: $KarlaSullens
Email:
NEED DELIVERANCE? INNER-HEALING? Contact Dr. B & Bonnie for help! Pls, donate $50 below then email them @
Dr. Bondoc & Bonnie are Ordained Chaplains through the Great Commission United Chaplaincy & Discipleship Academy in Shelby, Michigan, and Personal/Professional Spiritual Life Coaches focused on deliverance.
This is a Holy Spirit-led ministry, and all glory and honor go to God the Father, Jesus Christ, and the Holy Spirit. It is a non-501c3 organization and donations are not tax deductible.
TESTIMONIES
January, 2021
Glory to God! I ran across Dr. B and Bonnie on the Internet. God used Dr. B and Bonnie to destroy the hindrances in my life and ministry. These are truly women of God. I thank God for their obedience to the Holy Spirit and am grateful to God for directing me to them. I highly recommend them. Hallelujah! There is Power in the Blood of Jesus. Praying with Dr. B and Bonnie, agreeing in faith in the name of our Lord Jesus Christ produced instant results. Christ Be Magnified! In Jesus Name, Amen.
--J.G.
​
January, 2021
Hello my name is T.W., and this is my testimony. It all started in my family, I was molested as a child, and from there I grew older and started having sex and doing drugs, stealing and breaking into houses/apartments, committing burglary, drinking alcohol and associating myself with gangs. The more I did these things, the more corrupt I became, and things snowballed with things getting worse. I picked up more and more demons while I was doing these things in my past, and eventually the perversions from the molestations and fornications I Involved myself in led me down a path into bisexuality where I found myself having sex and anal sex with transgender women and men and living a lifestyle contrary to God's ordained plan for me. After my senior year of high school at the age of 17, I was diagnosed with schizophrenia and was being tormented by many different spirits, including voodoo attacks from people I was sexually involved with in the past. All of these things led me to the realization I needed a savior so I gave my life to the Lord Jesus Christ and turned from all these evil ways and different paths, I ignorantly had chosen to take. And eventually, I got in contact with Dr. B and Bonnie where they have prayed for me and completely assassinated my Goliath and strongmen and covered me with prayers of protection Etc., that has worked wonders for my life even at this current moment and the Lord Jesus Christ has also done wonderful things for me ever since I gave my life to him, he has protected me, provided food and shelter, shoes, clothes, finances, and everything else I need. He has also anointed me, given me mantles, and even opened heaven over my life along with sending Dr. B and Bonnie into my life to help encourage and cover me in prayer and be a blessing to me. So, to the Lord Jesus Christ, I will forever give the Praise and Glory in Jesus Christ Holy name, Hallelujah.
--T.W.
​
ANOTHER ONE:
Dr. B and Bonnie prayed against a spiritual attack over my throat and head. I had a breakthrough and feel really great!
I give God all of the glory. Thank you for doing the heavy lifting. It is broken. Wow! It was a vicious attack. Halleluiah! Amen! Our God lives!
DD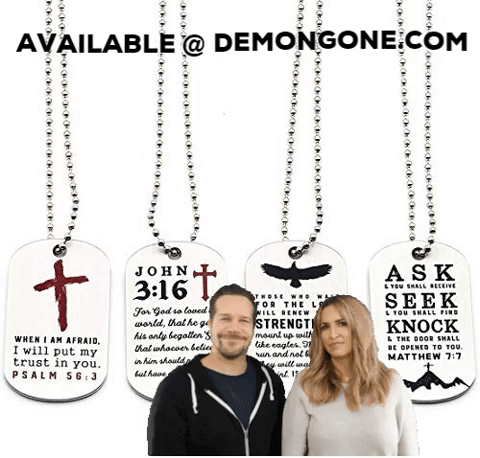 Deliverance Prayer Ministry in Fresno, Sacramento, San Jose, San Francisco, Las Vegas, Atlanta, New York, New Jersey, San Diego, Seattle, Phoenix, Denver, Portland, Miami | Powerful Deliverance Prayer | Spiritual Warfare Prayers
GET A TELEPHONE CALL FROM BROTHER CARLOS TODAY -
CLICK HERE
Brother Carlos' TV Show Video Clips
Please, pray this Renunciation Prayer at least once, before your Skype Deliverance:

Heavenly Father, I ask that you forgive me of all sins I have committed against you and against those made in your image. Lord, I ask that Your angels surround myself and my family members and protect us according to your word in Psalm 34:7. I now declare Isaiah 54:17: "No weapon formed against me and my family members shall prosper" in the mighty Name of Jesus Christ, Ya'shua haMashiach, His Hebrew Name. Amen.

In the Name of the Lord Jesus Christ, as it relates to me and my family, I bind all Satan's evil spirits, occult spirits, spirits of sin, spirits of trauma, familiar spirits, demonic forces, satanic powers, principalities, attributes, aspects, clusters, endowments, and satanic thrones: I bind all kings and princes of terrors. I bind all demonic assignments and functions of destruction from any demonic entities from outer space, the air, water, fire, the ground, the netherworld, and the evil forces of nature. I bind all interplay, interaction, communication and all their games between satanic and demonic spirits, out of, and away from our spirits, minds, bodies and souls.

In the Name of Jesus Christ, I sever all demonic spirits from any demonic ruler above these demonic spirits. I revoke any orders given to any of these demonic spirits and demonic forces concerning me and my family. I bind all demonic entities under the one and highest authority.I loose you, evil spirits, from us now, I loose you to where Jesus Christ sends you. Your assignments and influences in our lives are broken now! In the Name of the Lord Jesus Christ. Amen!

In the Name of Jesus Christ, I declare broken and destroyed all spells, hexes, vexes, curses, voodoo practices, witchcraft, occult, Masonic and satanic rituals,masonic and satanic blood covenants, masonic and satanic blood sacrifices, demonic activities, evil wishes, coven rituals, all occult, Islamic and coven fasting prayers and curse-like judgments that have been sent our way and have been passed down through my family generational bloodline. I loose them to where Jesus Christ sends them. I ask forgiveness for, and renounce, all negative inner vows made by myself. I ask you Lord Jesus Christ that you release us from these vows, and from any bondage they may have held us in. Lord, in the name of Jesus Christ, do not remember the iniquities of our forefathers against us. (Psalms 79:8)

In the Name of the Lord Jesus Christ, according to Hebrews 4:12, I take the Sword of the Spirit, which is the Word of God, and cut myself and my family members free from all generational- inherited sins, weaknesses, character defects, personality traits, cellular disorders, genetic disorders, learned negative inner vows, and spiritual and psychological ties. I cut all bonds that are not of the Lord, and put the Blood of Jesus Christ between us. I cut all bonds of the relationships of each one of us that are not of the Lord, back to the beginning of time and all present and future generations. By the Sword of the Spirit, and in the Name of Jesus Christ, I say that we are cut free, and we are free indeed. We are now free to become the children of God as the Lord intended us to be... THIS PRAYER CONTINUES HERE
SKYPE DELIVERANCE PRAYER

Ministered by Brother Carlos